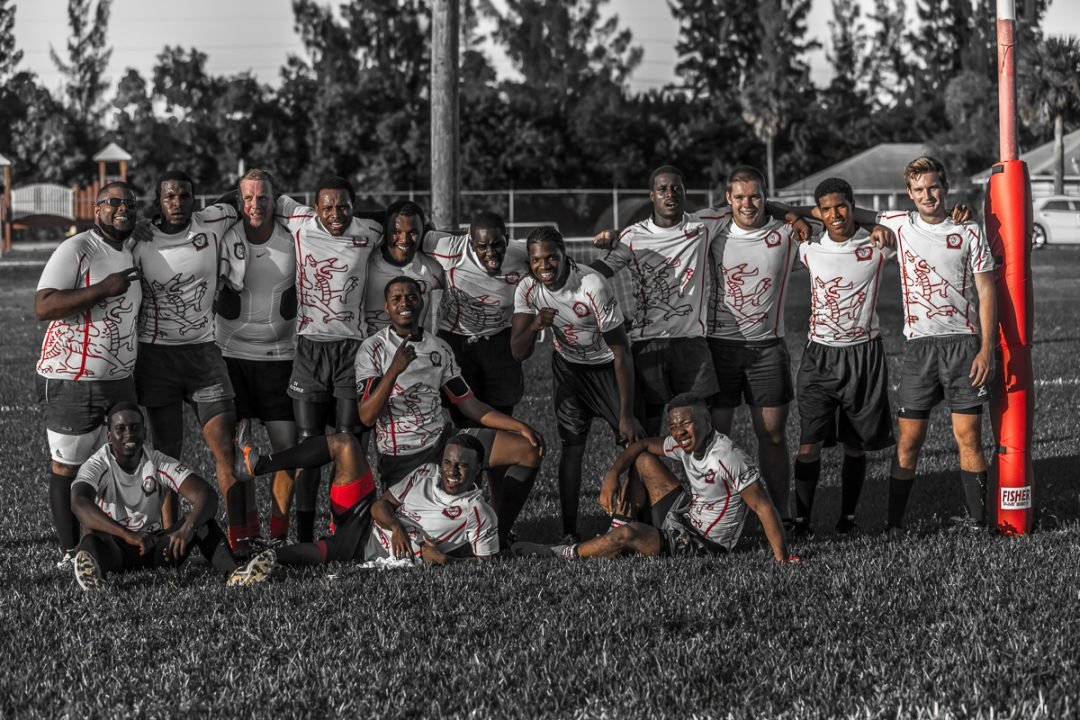 The club are the 2008 Bahamas Cup Champions and the Winners of the 2008 Bahamas Championships — plus we have a thriving youth rugby program.
Men's rugby practice is on both Mondays and Thursdays, with games expected to begin in November. A Golden oldies tour is expected to be announced soon.
Youth rugby (for ages 10 and above) will begin in late October from 10am to midday every Saturday.
The Club hosts the infamous Easter festival in which our finely tuned band of athletes put their reputation (both playing and social) on the line against all comers from all over the world (see visiting teams section).
Date
Time
Teams (Home team on left)
Event
Oct. 13th
10:30am
Cracked Conchs v Florida Old Boys
Tour
12:00
Nassau Select v Naples RFC
Tour
Oct. 20th
Cultural Festival
Oct. 27th
3:00pm
President's XV v Vice President's XV
–
Nov. 3rd
2:00pm
Cuckoos v Freeport
BAH
4:00pm
Buccaneers v Baillou
BAH
Nov. 10th
2:00pm
Buccaneers v Cuckoos
Nas
4:00pm
Potcakes v Baillou
Nas
Nov. 17th
2:00pm
Buccaneers v Potcakes
Nas
4:00pm
Baillou v Cuckoos
Nas
Nov. 24th
2:00pm
Freeport v Baillou
BAH
3:00pm
Potcakes v Cuckoos
BAH
Dec. 1st
3:00pm
Cuckoos v Buccaneers
Nas
Dec. 8th
2:00pm
Freeport v Buccaneers
BAH
3:00pm
Baillou v Potcakes
BAH
Dec. 15th
1:00pm
Buck Johnson 10s
Tnmt.
Dec. 22nd
Christmas Break
Dec. 26th
1:00pm
Boxing Day 7s
Tnmt.
Jan. 12th
2:00pm
Potcakes v Buccaneers
Nas
4:00pm
Cuckoos v Baillou
Nas
Jan. 19th
2:00pm
Baillou v Buccaneers
Nas
4:00pm
Cuckoos v Potcakes
Nas
Jan. 26th
2:00pm
Freeport v Cuckoos
BAH
3:00pm
Baillou v Potcakes
Nas
Feb. 2nd
2:00pm
Potcakes v Freeport
BAH
4:00pm
Buccaneers v Baillou
Nas
Feb. 9th
2:00pm
Youth 7s
Tnmt.
4:00pm
Buccaneers v Cuckoos
BAH
Feb. 16th
2:00pm
Freeport v Potcakes
BAH
3:00pm
Cuckoos v Baillou
BAH
Feb. 23rd
2:00pm
Potcakes v Cuckoos
Nas
4:00pm
Baillou v Buccaneers
BAH
Mar. 2nd
2:00pm
Buccaneers v Freeport
BAH
4:00pm
Baillou v Cuckoos
BAH
Mar. 9th
3:00pm
Potcakes v Buccaneers
BAH
Mar. 16th
2:00pm
Potcakes v Baillou
BAH
4:00pm
Cuckoos v Buccaneers
BAH
Mar. 23rd
3:00pm
Buccaneers v Potcakes
BAH
Mar. 30th
2:00pm
Baillou v Freeport
BAH
4:00pm
Cuckoos v Potcakes
BAH
Apr. 6th
1:00pm
Youth 7s
Tnmt.
Apr 13th
Easter Break
Apr. 20th
3:00pm
Play Offs (1v4; 2v3)
BAH
Apr. 27th
3:00pm
Bahamas Cup Final
BAH